Occupational Therapy Assistant
Earn your Associate Degree in as little as 20-months!
Platt College's Occupational Therapy Assistant Program is designed to prepare students to seek entry-level employment in their chosen field.

The Occupational Therapy Assistant Program at Platt College is designed to prepare students to seek entry-level employment in their chosen field.
Programs is headed by professionals in the field

Convenient class schedules

Full-time on-site career services 

 Financial aid is available to qualified students

After successful completion of the board exam, the graduate will be a Certified Occupational Therapy Assistant (COTA)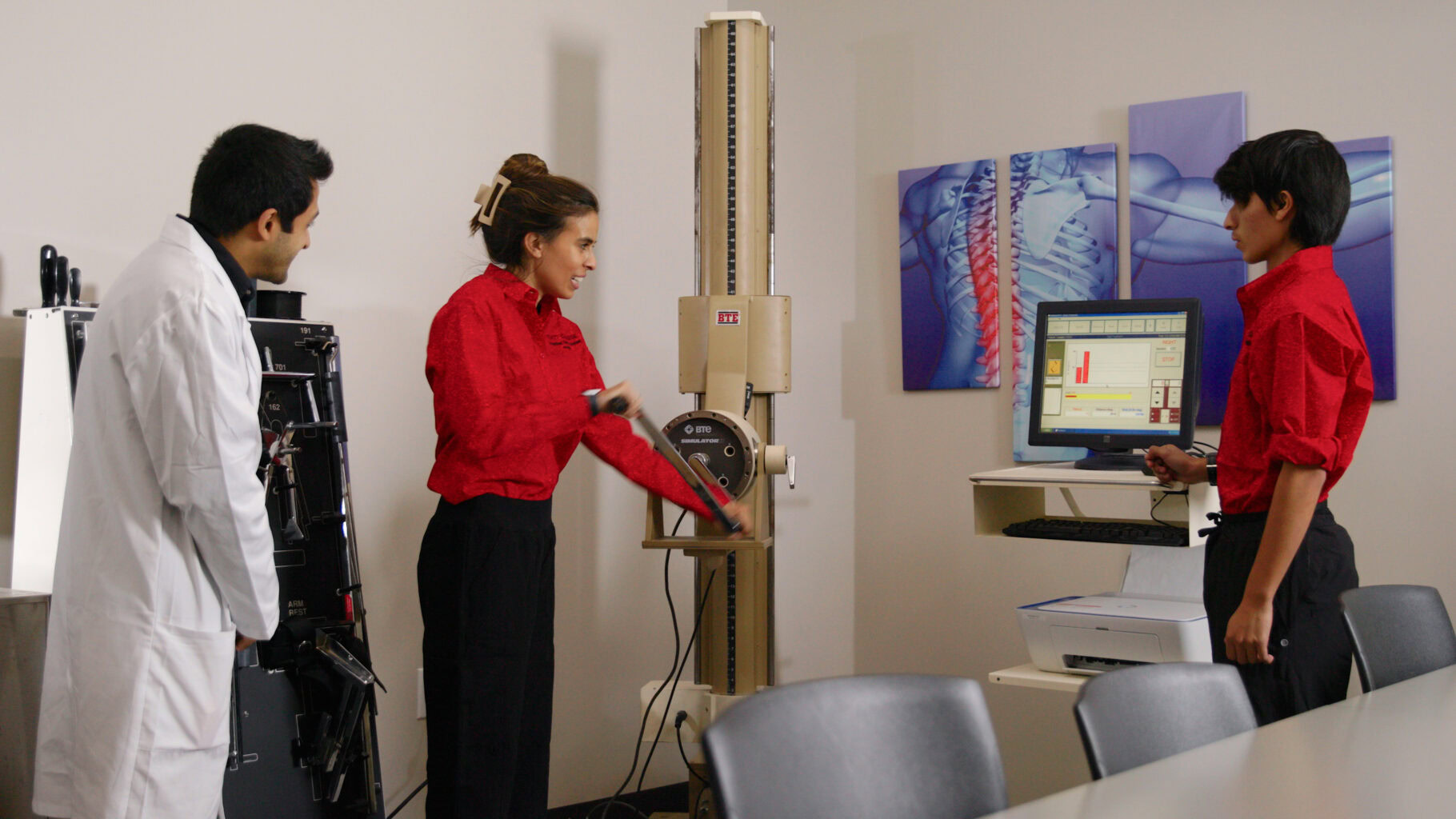 Overview & Accreditation
Platt College's Occupational Therapy Assistant Program is designed to prepare students to seek entry-level employment in their chosen field.
Make a difference by helping clients of all ages live full and vibrant lives by promoting health, and preventing – or living better with – injury, illness or disability.
Headed by professionals in the field, this program will give you the critical skills you need to successfully perform your duties as an assistant to occupational therapists. 
Under the guidance of an Occupational Therapist, Occupational Therapy Assistants typically work with clients with injury, illness and/or disability. Working in such settings as hospitals, clinics, public schools, and private homes, Occupational Therapy Assistants make environmental and task-related adaptations for their clients to enable them to effectively master the activities of daily life.
You will perform support activities for the occupational therapist. This includes helping patients perform therapeutic exercises, guiding them in the use of special equipment, and filling out the relevant paperwork. Monitoring is also a huge part of your job; you ensure that patients are following the treatment plan while also keeping track of their progress. As an occupational therapy assistant, you play a huge role in the recovery and independence of your patients.
Program results from the National Board for Certification in Occupational Therapy Assistant (NBCOT) can be found online at https://www.nbcot.org/Educators-Folder/SchoolPerformance.
The total number of graduates from the Platt College Occupational Therapy Assistant Associate of Science program during the 3-year* period of 2020 – 2022 was 15, with an overall graduation rate of
83%.
GRADUATION FROM THE PROGRAM DOES NOT GUARANTEE ENTRY INTO ANY CAREER. ADDITIONAL REQUIREMENTS MAY APPLY DEPENDING ON AN INDIVIDUAL'S PREVIOUS EDUCATION AND WORK EXPERIENCE.
The associate-degree-level occupational therapy assistant program has been granted Accreditation Status by the Accreditation Council for Occupational Therapy Education (ACOTE) of the American Occupational Therapy Association (AOTA), located at 6116 Executive Boulevard, Suite 200, North Bethesda, MD 20852-4929. ACOTE's telephone number c/o AOTA is (301) 652-AOTA and its web address is www.acoteonline.org.

After successful completion of the board exam, the graduate will be a Certified Occupational Therapy Assistant (COTA). In addition, all states require licensure in order to practice; however, state licenses are usually based on the results of the NBCOT Certification Examination. Note that a felony conviction may affect a graduate's ability to sit for the NBCOT certification examination or attain state licensure.
As part of the Platt College Anaheim Occupational Therapy Assistant program, students must complete an externship (640 hours of Level II fieldwork) following the completion of the in-class portion of the program to graduate.
Platt College Los Angeles LLC is accredited by the Accrediting Commission of Career Schools and Colleges (ACCSC).  For more information, click HERE
Schedule
With convenient class schedules, you can earn your Associate Degree as an Occupational Therapy Assistant in as little as 20-months!
Start times for each OTA cohort vary by campus, contact us for details HERE
Financial Aid
Platt College is committed to providing the information and resources necessary to help every student achieve educational success.   Types of financial aid available for qualified students include:
Federal Grants, including Pell Grant, Federal Supplemental Educational Opportunity Grant (FSEOG), and Federal Work Study (FWS)

California State Grant Programs, including Cal Grants and California Chafee Grant for Foster Youth

Federal Direct loans

Private Loans & Scholarships
To learn more, click here: https://plattcollege.edu/financial-aid/
Career Services
Platt College maintains an active career services department to assist graduates as well as current students seeking part-time or full-time jobs while attending school. However, the school cannot guarantee employment.
Students are given the opportunity to pursue job referrals maintained by Career Services.
Our Career Services personnel explain and assist with our student's job search process. Placement efforts occur through graduation and beyond.
Career Services aims to build the job acquiring skills of our students through interviews and workshops in the following areas:
Career planning

Resume and cover letter writing

Completing applications

Researching and contacting potential employers
Additional Program Information
Cost of Attendance is defined at Platt College per academic year of 3 terms, 30 weeks (cost is based upon average expenses comprised from California Student Aid Commission's student's expense budget and if the student is living with parents or without parents). For more details click HERE
Upon successful completion of the program of instruction, the graduate will be awarded an Associate of Science in Occupational Therapy Assistant, provided all financial obligations have been met, and a minimum grade point average has been attained. To graduate, a student must attain a minimum cumulative grade point average of 2.0 (C) and meet all attendance requirements. In addition, all students must meet with Career Services and Financial Aid and complete and sign all documentation prior to being approved for graduation.
Click here for Graduation Rates
Potential employment opportunities for graduates from the Occupational Therapy Assistant program at Platt College in Anaheim, CA:
Rehabilitation Centers. You'll help patients in rehabilitation centers get back to the peak of their health and attain independence. You'll provide support to the therapists who oversee the recovery of the patients.
Nursing Homes. You'll carry out activities and exercises in assisted living communities. You'll help the residents have a healthy, fulfilling, and enriching daily life.
Schools. You'll help schools that focus on kids with attention, hyperactivity, or other disorders and help them make the most of their education.
It's All About Your Future!